BRIEF STORY OF ARICCIA
(BREVE STORIA DI ARICCIA Sig. Mario Leoni
)
Translated by Dr Ashraf Virmani
"IBAT ET HIPPOLITY PROLES PULCHERRIMA BELLO VIRBIUS INSIGNEM QUAM MATER ARICIA MISIT,EDUCTUM EGERIAE LUCIS UMENTIA CIRCUM LITORA, PINGUIS UBI ET PLACABILIS ARA DIANAE."
VIRGILIO(ENEIDE LIBRO VII)
This period of Roman history we can translate thus:
(Marched for war the proles of Ippolito-Virbio, sent by the mother Aricia, living in the forests of Egeria between
the rivers where the temple of Diana rises)
Filling back the gaps in time when Ariccia was the head of the Latin League, the main antagonist of Rome, until its definitive defeat in the 338 a.C.
Still the Roman writer Cicerone in the III° Philippica remembering Ottaviano Augusto, whose mother was Azia Ariccina, numbered Ariccia as bieng one of the most noble of the Latin cities:
" MUNICIPIUM VETUSTATE ANTIQUISSIMUM JURE FOEDERATUM, PROPINQUI- TATE PAENE FINITUM SPLENDOR MUNICIPIUM HONESTISSIMUM "
(Ancient municipal, federated by right to Rome, honored for obvious merits nealy andjacent and of neighboring territory)
Following the opening of the famous road, Via Appia, in the 312 a.C., Ariccia acquired a great importance due also to the fact that it was the first " Statio or State" exiting from Rome. All the territory, during the Republic and the first four centuries of the empire, was full of villas, monuments, terme (hot baths). The temple of Diana Aricina on the shores of the lake of Nemi, was included in the jurisdiction of Ariccia, and was the goal of continuous pilgrimage. From Vallericcia (valley of Ariccia) starts the ancient road called the Trionfale Way that ascends to the top of the neighbouring volcanic mountain, called Mount Cavo, on top of whiich sat the Temple of Latium Giove (Jupiter).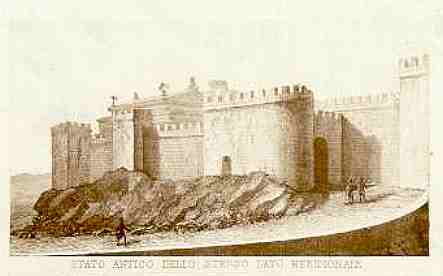 Ariccía followed the fate of Rome and it is believed that, with the sacking of Rome, which happened in the 410 d.C., also the Roman Aricia was destroyed. Thus it was, a lapide refound in Vallericcia in the XIX° century and custody in Palazzo Chigi, recounts the Prefect, Pretorio Anicio Faustus Glabrione, between the 435 and the 438, the sad tale of the city.